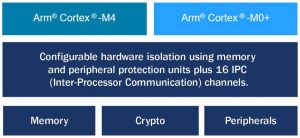 "PSA is a set of threat models, security analyses, hardware and firmware architecture specifications, and an open source firmware reference implementation," said Arm. "It provides a recipe, based on industry best practice, that allows security to be consistently designed in, at both a hardware and firmware level. PSA is scalable for all connected devices, offering common ground rules and a more economical approach to building more secure devices."
According to Cypress, it is achieving the highest level of protection defined by the PSA using PSoC 6's dual Cortex-M cores combined with configurable memory and peripheral protection units.
The MCUs provide three levels of hardware-based isolation to reduce the threat attack surface:
an isolated execution environment for trusted applications using a dedicated Cortex-M0+ core
secure element functionality that hosts root of trust operations and system services
isolation for each trusted application.
There is also a true random number generator (TRNG), cryptographic accelerators, and the temain in Arm core (Cortex-M4) for  while un-secure applications.
"As a direct result of the security features built into PSoC 6 MCUs and our collaboration with Arm, we have been able to quickly offer support for Trusted Firmware-M," said Cypress v-p microcontrollers Sudhir Gopalswamy.
Trusted Firmware-M reference example for PSoC 6 MCUs allows designers to:
Implement hardware-based isolation between secure and un-secure execution environments via configuration of the protection units
Use Mbed operating system secure services
Future versions will include trusted boot with multiple images and full PSA API support, including root-of-trust installation with secure element functionality.
PSoC 6 Trusted Firmware-M will be available in March 2018.