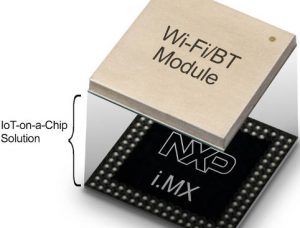 Made on a 14LPC finfet process, versions with single, dual, and quad Arm Cortex-A53 running up to 2GHz were announced. The chips also include Cortex-M4 real-time processing at 400MHz.
"i.MX 8M core options are optimised for low-power, even sub-Watt in specific applications, but offer the breadth of processing power necessary for consumer, audio, industrial, machine learning training and inferencing across a range of cloud providers."
Also on-board is hardware 1080p video acceleration for two-way video, as well as 2D and 3D graphics for visually-rich human-machine interfaces, and multi-channel audio with digital microphone input.
The i.MX 8M Mini family will provide a range of pin-compatible product offerings with support for DDR3L, DDR4 and LPDDR4 memory .
Interface options, said the firm, will include Wi-Fi, Bluetooth, Ethernet, USB and media storage.
Sampling is planned for 2Q, and production in 1Q 2019.
At the same time, NXP announced something it is calling 'IoT-on-a-Chip' (pictured) in which an Arm Cortex-A7 based i.MX processor is integrated in a package with solder bumps on the top as well as the bottom, allowing a certified transceiver module covering both dual-band 802.11ac Wi-Fi and Bluetooth 4.2 to be soldered on top. Total size is 14 x 14 x 2.7mm.