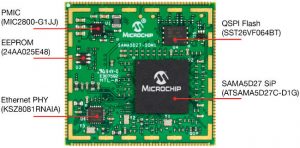 The module is single sided, and can be soldered straight to a PCB via its 0.8mm interconnect.
"There is a great deal of design effort and complexity associated with creating an industrial-grade MPU-based system running a Linux operating system," said Microchip. "Even developers with expertise in the area spend a lot of time on PCB layout to guarantee signal integrity for the high-speed interfaces to DDR memory and Ethernet PHY [physical layer] while complying with EMC standards. Customers can solder the SOM to their board and take it to production, or it can be used as a reference design along with the free schematics, design and Gerber files and complete bill of materials which are available on-line."
Called ATSAMA5D27-SOM1 and intended for 3.3V operation, the module is based on the firm's recently-released ATSAMA5D27C-D1G-CU system-in-package (14 x 14mm BGA), which includes an ARM Cortex-A5, 1Gbyte of DDR2 memory and the intervening high-speed memory interface. Impedance matching is done in the package.
To this, the module adds power management, 2kbit of eeprom, the 10/100 Etherney PHY, a 64Mbit QSPI serial flash boot memory, and all the necessary passives – see photo.
"It can run main-stream Linux from linux.org," Microchip business development manager Lucio Di Jasio told Electronics Weekly. "Everyone will include support for this module."
A SAMA5D2 microcontroller, which can run up to 500MHz, provides the Cortex-M5, as well as Arm's NEON SIMD engine, 128kbyt of L2 cache and a floating point unit.
Peripherals on the silicon include USB, dual CAN, up to 10 UARTs, a TFT LCD controller and both capacitive and resistive touch.
Unusually for a microcontroller, the peripheral list includes a class-D audio amplifier.
The module has 103 I/Os for access to the peripherals, and Linux support is available.
"Microchip customers developing Linux-based applications have access to the largest set of device drivers, middleware and application layers for the embedded market at no charge," said Microchip. "All of Microchip's Linux development code for the SiP and SoM are main-lined in the Linux communities. This results in solutions where customers can connect external devices, for which drivers are main-lined, to the SiM and SiP with minimal software development."
Module consumption is typically 120-160mA, or ~60mA with the CPU stopped, of which ~30mA is the SiP.
By dropping the SiP into 2mA 'ultra-low-power' mode, module consumption can be reduced to ~30mA. "The SoM circuitry around the SAMA5D2 SiPis not optimized for ultra-low power operation," said Microchip.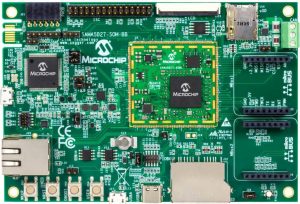 "The devices offer advanced security functions to protect customer code and secure external data transfers. These include ARM TrustZone, tamper detection, secure data storage, hardware encryption engine, on-the-fly decryption of code stored in external DDR or QSPI memory and a secure boot loader," said Microchip. "Customers can work with Microchip's security experts to evaluate their security needs and implement the level of protection that's right for their design."
System-in-package-on-module-on-kit
Adding another level of integration, the module is available pre-soldered to an evaluation kit (ATSAMA5D27-SOM1-EK1), making it a system-in-package-on-module-on-PCB.
This board includes many interfaces including two sockets for microBUS expansion boards.
"The development board provides a convenient evaluation platform for both the SoM and the SiP," sid Microchip, a free board support package includes the Linux kernel and drivers for the MPU peripherals and integrated circuits on the SoM."