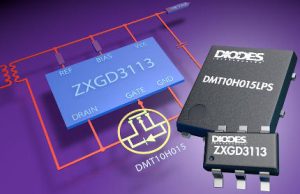 "ZXGD3113 controls an external MOSFET, such as the 100V 16mΩ n-channel DMT10H015LPS, configured to operate as an ideal diode," said the firm. "The SOT26 form-factor reduces the solution size from the industry-standard SO8 and, by operating up to 250kHz, the PSU designers can use smaller transformers."
Proportional gate drive is implemented, enabling it to rapidly turn off the synchronous mosfet when operating in continuous conduction mode, although it can also operate in discontinuous conduction mode and critical conduction mode.
Other features include 10mV threshold voltage for use with low R[subscript]DS(on)[end subscript] mosfets and peak source and sink currents of 0.5 and 1.5A respectively.
Operating is from 3.5V to 40V, allowing the chip to be used to generate voltages down to 3.5V as well as handling substantial over-voltage spikes on higher rails such as 24V. Quiescent current is 6.3mA.