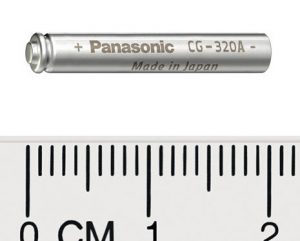 Called CG-320A, it is 3.65mm in diameter and 20mm long – one-seventeenth the volume of an AAA battery.
Foreseen applications are legion, including: smart watches, fitness trackers, virtual reality glasses and digital pens.
As output current is significant (at least 15mA = 1C), it can power near-field communication (NFC) in devices, said the firm.
Capacity is 15.0mAh (*see below) and 80% charge is available in one hour – which is not uncommon for conventional Li-ion cells.
Max charge current is 11.2mA (=0.75C) and charge is possible across 0-45°C, while it can be discharged from -10 to 60°C.
"This new Lithium-ion rechargeable battery is an example of Panasonic's technological expertise in the area of material and product development," said Panasonic chief engineer Takuyuki Okano. "Despite the small diameter, the normal spiral electrodes for lithium-ion rechargeable batteries are used."
The can is stainless steel.
Two 4.7mm diameter models are in development, which will have faster charging (80% in 20mins):
CG-425 – 30mAh
CG-435 – 50mAh
Not quite the smallest
In 2014, Panasonic announced the earlier CG-320, the same lenght as the CG-320A, but 0.15mm thinner, with a capacity of 13mAh.
* Capacity
Capacity of the CG-320A is 15mAh when charged at maximum voltage (4.35V) and discharged at 3mA (0.2C). This reduces to 13mA when charged at the more standard 4.2V, for which many charge chips are available.
Unusually for Li-ion cells, CG-320A is fully specified for charge to 4.35V – whch would kill most other Li-ion cells in a couple of dozen cycles.
Charges to 4.35V, after 500 cycles capacity is expeced only to drop by 2mAh – scroll down theCG-320A data sheet for more details.
Caption
Keywords: battery, rechargeable battery, Lithium-ion, pin-type, wearables, NFC
Deeplink:https://eu.industrial.panasonic.com/products/batteries-energy-products/secondary-batteries-rechargeable-batteries/lithium-ion-pin-type
Meta title: High-performance Lithium-ion battery for wearables
Meta description: With a diameter of only 3.65 mm and a length of 20 mm the new CG-320A pin-type battery from Panasonic is the smallest cylindrical Lithium-ion rechargeable battery in the industry.
Download area:http://www.koehler-partner.de/project/panasonic-presseservice/
https://industrial.panasonic.com/content/data/BT/docs/edbd/pin/CG320A_DataSheet_EN(WW)_20160423.pdf