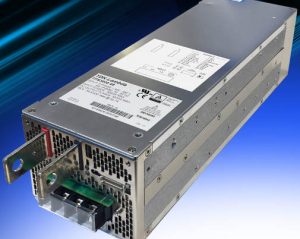 Capable of operating from a 350-528Vac three phase delta or wye input, the TPS3000-48 avoids the need for the step-down transformer a 208/230V input PSU would require, said the firm.
Efficiency is up to 92.5%, allowing it ti deliver full power in ambients between -40 and +50°C. Above thi sit can be de-rated linearly to 55% max load at +70°C.
"Acoustic noise is minimised and fan life extended with the use of a temperature controlled, variable speed internal fan," said TDK.
Measuring 107 x 84.4 x 324mm, TPS models will fit in 2U racks.
3kVac input to output isolation is provided, as is 2kVac input to ground and 500Vac output to ground.
All models are certified to UL/CSA 60950-1, IEC/EN 60950-1 and carry the CE mark for Low Voltage and RoHS2 Directives.
The series complies with EN55022-A conducted and radiated emissions, and meets the IEC 61000-3-2 harmonics, IEC 61000-4 immunity and SEMI F47-0706 standards
Programming, monitoring and control
External signals include: isolated AC Fail, DC Good and dropped-phase signals; remote on/off and remote sense functions; and a 12V 0.3A standby supply.
A PMBus interface allows remote monitoring of the output voltage, output current, internal temperature, status signals and fan speed – output voltage, over-current limit and remote on/off can be programmed via the PMBus.
Also, output voltage can also be adjusted (38.4 – 56.5V) and current limit point (70-105%) using the front panel potentiometers or 0-5Vdc analogue voltage.
For higher power applications, up to eight units can be connected in a parallel.
Redundant operation is also possible with the internal ORing FETs.
Applications are expected in test equipment, digital printers, laser cutting, RF power amplifiers and semiconductor fabrication equipment.