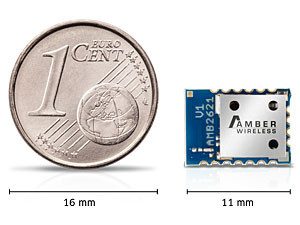 Called AMB2621, and built around Nordic's nRF52832 chip (32bit ARM Cortex-M4 and 512kbyte flash), it connects to its local host microcontroller over UART.
It supports 'central', 'observer', 'broadcaster' and 'peripheral' Bluetooth profiles.
The firm emphasises its use in peripheral-only profile, which is the default, with the module built into a wireless sensor node for example. Here the node sends out a periodic "I'm here" messages which a nearby terminal in 'central' mode (a phone for example), can chose to respond to or ignore.
If the phone chooses to pair, the module provides a transparent communication mode from the microcontroller in the sensor to the phone via a UART interface, said Amber.
The firm sees this profile being use in legacy applications.
"Our customers can install and use the module with ease, without having to previously configure it and without changing the interface in their application in a big way", said Amber head of sales Patrick Becker. "We purposefully introduced the option of operating the wireless module as peripheral in the sense of the Bluetooth protocol, as this covers around 90% of applications."
In this mode, the UART interface is only active once a wireless connection is established.
Static passkey pairing is used as a security device as in the hands-free system in the car.
Commands over the UART interface can configure energy consumption, various pairing methods, emitting powers, UART speeds, or entry into 1µA power-saving mode.
The module can also be used for determining position by triangulation.
With different firmware, the same Bluetooth Smart module can communicate over SPI.