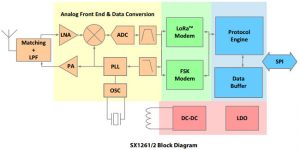 "The transceivers support LoRa modulation for low power wide-area network applications, as well as FSK (including GFSK and MSK (MFSK)) modulation for legacy applications, and include a new spreading factor of SF5 for dense networks," said distributor Mouser, which is stocking the parts. "SX1261 can transmit up to +15dBm, and the SX1262 can transmit up to+22dBm with integrated power amplifiers."
Frequency range is 150 to 960MHz, offering continuous frequency coverage for all major global sub-GHz ISM bands, according to Mouser.
Both parts, which are 4 x 4mm, are suitable for systems intended to comply with ETSI EN 300 220, FCC CFR 47 Part 15, China regulatory requirements, and the Japanese ARIB T-108.
SX1262 is supported by the SX1262DVK1CAS development kit, also available from Mouser.
IoT and wireless applications are foreseen in smart meters, agricultural sensors, asset tracking, building automation, street lights, safety sensors, security sensors, healthcare, and robotics.