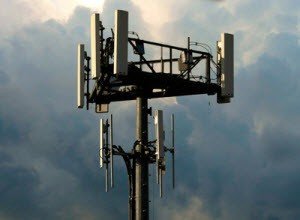 Called ADF4355, typical phase noise is -144dBc/Hz (1MHz offset) at 1.7GHz (typical), integrated jitter is ~150fsrms and the IC operates up to 6.8GHz.
"The device's higher frequency band offers throughput advances for makers of point-to-point microwave links, point-to-multipoint microwave links, satellite systems, VSAT systems, industrial, and test and measurement systems," said the firm.
VCO output frequency can range from 3.4 to 6.8 GHz, and be divided by 1, 2, 4, 8, 16, 32, or 64 – leading to frequency as low as 54MHz and gap-less coverage from there to 6,800MHz.
The synthesiser can operate in either fractional-N or integer-N mode, with 38-bit modulus resolution for low error outputs over a wide range of input frequency.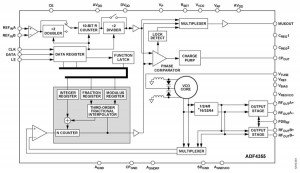 The RF output stage can be muted by pin or software.
Control of all on-chip registers is through a three-wire interface.
To operate, the chip needs 3.15-3.45V for its analogue and digital parts, except the VCO and charge pump which need 4.75-5.25V. Temperature range is -40 to 85C.
See also: Vodafone and Telefónica deploy Cobham's smart DAS in Berlin
Read more ADI stories on Electronics Weekly »