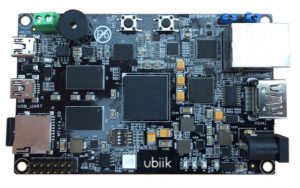 The pack includes the hardware required to deploy, demonstrate, evaluate and develop Weightless-P IoT networks, says the company.
Addressing the Internet of Things, the Weightless-P Specification, was released in December 2015, by the Weightless SIG open standards body.
"We believe that open standards and robust technologies are the keys to unleashing the full potential of the IoT," said Tien-haw Peng, Founder and CEO of Ubiik.

"By leading the development and commercialisation of Weightless-P, we are enabling a new wave of products simply not possible with existing LPWAN technology."
At the show, Ubiik is exhibiting Weightless-P base stations and end device modules for IoT solutions requiring high capacity, long range, years of battery life and bi-directional communication.
Embedded World 2017 attendees can see Ubiik in Hall 3, booth 638.
Weightless Ignition Packs are available for pre-order priced at $1,295. Developers can place orders at try.weightless.org/ignition.
Described as "a complete Weightless-P network in a box", the pack includes:
1 x base station hardware + 2 x omni-directional antennas
2 x end device modules + 2 x antennas
Full Weightless-P protocol stack

– basestation
– end device
– host PC
According to the standards body, Weightless-P's coding scheme and spectral efficiency enables competitive advantage over alternative LPWAN technologies; adaptive data rate, adaptive transmit power, scheduled uplink/downlink, paging and over-the-air firmware upgrades through multicast. It says these features translate to benefits such as higher network capacity, superior QoS, better security and higher network performance.
"From the beginning it was obvious that ultra high network capacity, a robust coding scheme and FOTA (firmware-over-the-air) were must-have features," said Fabien Petitgrand, Ubiik CTO and one of the architects of the Weightless-P standard. "It is equally clear that current alternative technologies are unable to support any of these prerequisites".

"History has taught us that ultimately only open standards prevail," added Professor William Webb, CEO of the Weightless SIG. "There are no other LPWAN standards in licence exempt spectrum, none."