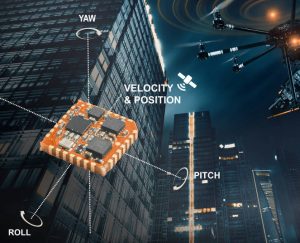 Measuring 12 x 12, and weighing under a gram, the MTi-7, is intended for use in drones, UAVs and autonomous ground vehicles (smart farming and robotics), as well as autonomous or remote-controlled mapping and imaging equipment. It is an upgrade from the existing MTi-1, in the same form factor.
Sensor fusion algorithms running on the module combine data from the on-board accelerometers, gyroscopes and magnetometers with the signals from external GNSS or a barometer.
"The raw sensor signals are combined and processed at high speed in the MTi-7 module to produce a real-time data stream showing the device's horizontal and vertical position, velocity, roll, pitch and yaw," said the firm. "This data stream may be supplied to a host processor via a standard I2C, SPI or UART interface."
Operating at output data rates up to 800Hz, with 2ms latency, allows for real-time operation of dynamic functions such as flight control and camera stabilisation, said the firm.
The module is supported by an Arduino-compatible development kit (MTi-7-DK), which provides access to the module's I2C, SPI and UART interfaces via micro-USB connections.
"Developers can configure the MTi-7 via the freely available Xsens MT Software Suite," said the firm. "The software suite includes a GUI for PCs operating on Linux or Windows platforms, as well as a software development kit including example source codes and complete documentation. Users of the MTi-7 also benefit from the Xsens 1-series 'No End of Life' policy, which guarantees availability of the MTi-7 or a pin- and function-compatible alternative for the duration of the customer's product lifetime."
Engineering samples of the module are available for shipment now. Unit pricing of the MTi-7 module is $109 (in an order quantity of 5,000 units).
The MTi-7 development kit is $499 from shop.xsens.com.