Called AS7000, it measures heart rate by shining light into blood vessels, which expand and contract as blood pulses through them, and analysing scattered reflections – which is called photoplethysmography (PPG).
In a 6.1 x 4.1 x 1mm package, the device include two green LEDs and a photo-sensing signal processing IC – based around an ARM Cortex-M0. Green is chosen to best-sense pulse, and transducer spacing makes it most sensitive to scattering from an appropriate depth.
Although barriers in the package block light travelling direct from LEDs to photodiodes, said AMS, reflected pulse information is only a ~1% ripple on top of dc returns and large perturbations from movement.
"Unlike existing optical analogue front-ends which produce raw PPG readings, AS7000 integrates a digital processor which converts PPG readings into digital heart rate and heart rate variation", claimed the firm.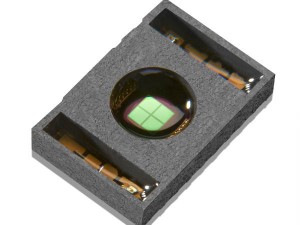 To work properly. the module has to be paired with an external accelerometer. This allows internal algorithms to filter-out the motion artefacts. "This means that the module can maintain high accuracy whether the user is resting or exercising." said AMS.
The module also enables skin temperature and skin resistivity measurements through interfaces to and external thermistor and two skin electrodes.
Alongside the module, AMS is offering opto-mechanical design-in support which provides OEMs with electrical, mechanical and optical design guidelines to simplify optical design considerations such as air gap and glass thickness, and the design and material of the wrist strap and housing.
A wristband demonstration kit is available, which uploads readings via a Bluetooth interface board to an Android phone or tablet. An app presents results and allows real-time logging.
AMS has compared the demo kit to a traditional chest band sports heartrate sensor (Plolar RC3GPS) and claims close agreement.
AS7000AA
AS7020
AS7024
MCU
ARM Cortex M0
no
no
memory
32k rom
4k ram
128byte FIFO
128byte FIFO
Analogue front ends
2
2
2
skin temp + resistance
yes
yes
yes
ECG amplifiers
no
yes
yes
LEDs
green + green
red + infra-red
green + IR, green
Dimensions
mm (target)
6.1 x 4.1 x 1
20pin
0.4mm pitch
5 x 2.7 x 1
18pin
0.4mm pitch
6.1 x 2.7 x 1
20pin
0.4mm pitch
samples
available
available
Nov. 2015
c-samples
available
Jan 2016
Feb/Mar 2016
Focus application
Simple wristband
phone
Smart band / watch