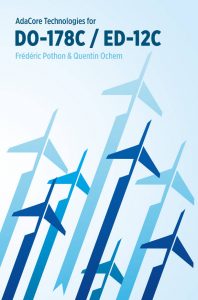 Written by Quentin Ochem of AdaCore and certification expert Frédéric Pothon, aside from describing the firm's own products, it puts the DO-178C / ED-12C standard and its technology supplements  into perspective and explains many of their more subtle aspects in the context of several different development scenarios.
"In so doing, the booklet provides insights into how the Ada and SPARK languages, combined with AdaCore's products and services, can help customers develop and verify airborne software," said the firm, some of whose tools have been qualified on safety-critical projects. "Using a qualified tool can save considerable effort in demonstrating that various objectives in the DO-178C / ED-12C standards suite have been met," it added.
"DO-178C is one of the most complex software safety standards in the industry," said Ochem, business development lead at AdaCore. "This booklet is aimed at software engineers and architects, to help them read between the lines of the standard and better understand the intent, using AdaCore's technologies to illustrate how to meet the various requirements."
One chapter summarises the Ada and SPARK languages and describes various AdaCore tools, many of which have been qualified or are qualifiable for safety-critical systems. Another shows how to exploit the firm's technologies to comply with the guidance in the DO-178C / ED-12C suite, in the context of several use-cases.