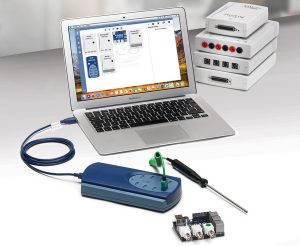 Designed to work with all of the firm's PC-based data acquisition hardware, the PicoLog 6 is functionally-identical running on Windows, Linux or MacOS.
Record limits are up from the 1Mpoints of PicoLog 5, and are now only limited by the PCs disc size.
Features include:
Real-time data collection and display
Database format to minimises data loss and corruption
Simple and complex programmable alarms
Up to four independent on-screen graph displays
Channels and graphs can be scaled using lookup tables or equations
Data can be exported as CSV, clipboard image or PDF
Supports multiple different Pico Technology data loggers on the same PC
PicoLog 6 software works with all current Pico Technology data loggers: TC‑08 8-channel thermocouple logger, PT‑104 precision RTD temperature logger, PicoLog CM3 3-channel AC current logger mains monitoring, ADC‑20, ADC‑24, DrDAQ educational logger, PicoLog 1012 and PicoLog 1216 – the last two in this list work as data loggers with PicoLog 6, or as 100 ksample/s oscilloscopes using the firm's PicoScope 6 PC software.
Pico Technology has been designing and making its products in the UK since its first data logger, the ADC‑10, in 1991 – when it worked with MS-DOS.