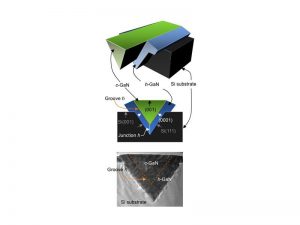 Not only might they bridge the green gap, due to a lower bandgap compared with hex-GaN, but the patented method grows GaN on silicon substrates.
GaN crystals can be grown with either cubic or hexagonal (also known as wurtzite) phases. All commercial GaN LEDs are based on hexagonal materials, typically grown on sapphire or silicon carbide substrates.
"The hexagonal phase typically forms most easily, as it is the lowest energy crystallographic structure," said Professor Christian Wetzel of Rensselaer Polytechnic Institute. "Previous attempts to grow cubic GaN crystal structures have produced poor quality, heavily defected mixed phase materials."
Rensselaer has worked with the University of New Mexico, which have jointly been awarded the US patent 'Growth of cubic crystalline phase structure on silicon substrates and devices comprising the cubic crystalline phase'.
"The silicon surface is first patterned with an array of nanoscale grooves that lead to a unique, geometrically driven phase segregation that separates the cubic phase and promotes its growth at the expense of the hexagonal phase GaN material. Additional quantum well layers of InGaN are added after the pure cubic phase GaN structure has been established to create the light emitting material used to fabricate cubic LEDs," said New Mexico Professor Steven Brueck.
By using a non-polar facet of cubic InGaN/GaN, the research team said it has demonstrated emission across the visible spectrum.
The research team and other investigators are developing an LED manufacturing processes.
Plessey, UK cubic SiC start-up Anvil Semi and the University of Cambridge are also working on cubic GaN LEDs.