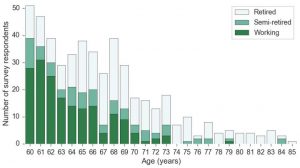 These results come from a survey of 504 people from 60 to 85 years old from 52 different countries – including working, retired and semi-retired people – using pythontutor.com, which teaches Python, Java, JavaScript, Ruby, C and C++.
19% were doing it simply for personal enrichment, 19% to implement a specific hobby project, 15% for entertainment and 10% out of general interest.
Further findings were that 22% wanted to make up for missed opportunities in youth, 19% were keeping their ageing brains sharp, 5% wanted to connect with younger family members and 8% said they wanted to learn to teach others.
Topping the list of frustrations for older students of coding was bad pedagogy. It was mentioned by 21% of the respondents and ranged from the use of jargon to sudden spikes in difficulty levels. Lack of real-world relevance came up 6% of the time. One respondent wrote: "Most [tutorials] are offered by people who must know how to program but don't seem to have much training in teaching."
Other frustrations included a perceived decline in cognitive abilities (12%) and no human contact with tutors and peers (10%).
University of California San Diego cognitive scientist Philip Guo started Python Tutor in 2010, and did the survey.
The study's limitations, said the University, are due to it being a self-reporting on-line survey and, in part, to the survey respondents themselves. Most hailed from North America and other English-speaking nations. 84% identified themselves as male – this statistic is consistent with other surveys of on-line learning, especially in maths and science topics.
There was a diverse array of occupations reported, but the majority of those surveyed were STEM professionals, managers and technicians. These learners, Guo said, are likely to represent 'early adopters' and "the more technology-literate and self-motivated end of the general population." He suggests future studies look both at in-person learning and at a broader swath of the public.
Based on this first set of findings and using a learner-centred design approach, Guo proposes tailoring computer-programming tools and curricula specifically for older learners. He notes, for example, that many of his respondents seemed to take pride in their years and in their tech-savvy, so while it may be good to advertise products as targeting this age group, they should not appear patronising. It might make sense to re-frame lessons as brain-training games, like Lumosity, now popular among the older set.
The percentages above add to more than 100 because they come from different question in the survey. Full details are available in 'Older adults learning computer programming: motivations, frustrations, and design opportunities', Guo's findings from the survey.