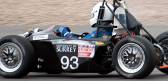 Called Team Surtes (Surrey University racing technology and engineering solutions), the team will get advice on electrical test and measurement, plus access to the company's pool of rental and demonstration equipment.
"We had already heard of the Formula Student competition and the University of Surrey is literally on our doorstep, so when we found out about the existence of Team Surtes we that we wanted to get involved," said Caltest general manager David Sheath. "The car is certainly impressive and I am looking forward to watching their progress during the 2013 season. I hope that this will be the beginning of an on-going relationship for us."
Formula Student is run by the Institution of Mechanical Engineers and draws more than 100 teams from Europe and beyond. I its 15th year, it has is one of the proving grounds for young engineering talent, "with many leading automotive and aerospace companies filling their graduate roles from amongst the competitors," said Caltest.
Team Surtes has 36 students drawn from mechanical, aerospace and civil engineering. They are responsible for design, test and manufacture of the vehicle, as well as everything else including finance, marketing and human resources. Four sub-teams cover: chassis, suspension, power train and systems.
"The patronage of companies like Caltest allows our students to continue their participation, providing an arena where they can hone their skills by solving real-world engineering problems, said Team Surtes faculty advisor Dr Patrick Gruber.