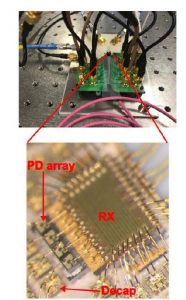 "This is not only the fastest data transmission speed to date, but the optical receiver also features power-on/off functionality and can wake-up and achieve phase-lock in 8ns, the shortest switch time in record," said the organisers of the Optical Networking and Communication Conference and Exhibition (OFC 2018), where details of the receiver will be revealed.
According to IBM, many commercial optical transceivers are always-on, and 99% of links in a data centre are actually active for <10% of the time, and wasting power for the other >90%. If the receiver can switch on in 8ns, it said, that is shorter than the average length of time for an individual data packet in a typical network protocol transmitted at 160Gbit/s.
"Our design, for the first time, allows for the on/off switching of and optical link on a per-packet basis," said IBM scientist Alessandro Cevrero. "There were previous scientific attempts to turn off the links when there is no data, however the time to switch on and off the link was orders of magnitude longer than that of an individual data packet. To achieve shorter power-on-time at a very high data transmission speed is the key challenge."
The receiver has four identical channels and includes analogue circuits that rapidly align the receiver's clock with the arrival of the incoming data, plus detect optical signal sequences to control link system on-off.
It was tested at 40Gbit/s second with a 850nm Mach-Zehnder modulator reference transmitter followed by a variable optical attenuator.
Including power cycling, the receiver operated error free at 40Gbit/s – or 160Gbit/s aggregated bandwidth over multi-mode fibres. When on, the receiver typically consumes ~88mW when 'on'.
"The experimental data also showed that 10% link utilisation corresponds to 85% power saving on the receiver," said IBM.
Packaged with an 850nm photodiode array, the receiver is aimed at low-cost VCSEL-based optical links for data centre interconnect.
The researchers' next steps, said Cevrero, is to validate a complete optical interconnect system including the optical transmitter, and to test data reception at 56Gbit/s/channel.
Funding came from the European Commission through the Seventh Framework Programme (FP7) project ADDAPT (adaptive data and power aware transceivers for optical communications).
'4×40 Gb/s 2 pJ/bit optical Rx with 8ns power-on and CDR lock time in 14nm CMOS," will be presented at OFC on 11 March 2018 at the San Diego Convention Center.