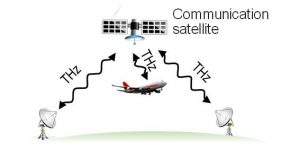 Last year, the same group demonstrated QAM (quadrature amplitude modulation) at 300GHz to enhance data rate.
"This year, they showed six times higher per-channel data rate, exceeding 100Gbit/s for the first time as an integrated-circuit-based transmitter," said Panasonic, which worked with Hiroshima University and the Japanese National Institute of Information and Communications Technology to develop the transmitter.
"This year, we developed a transmitter with 10 times higher transmission power than the previous version's," said Hiroshima Professor Minoru Fujishima. "This made the per-channel data rate above 100Gbit/s at 300GHz possible. Terahertz could offer ultrahigh-speed links to satellites, and that could, in turn, significantly boost in-flight network connection speeds, for example."
Other possible applications include fast download from contents servers to mobile devices and ultrafast wireless links between base stations, he added.
He pointed out that such links could beat optical fibres because that are made from glass where the speed of light is slower than in air or space, increasing data latency and barring them from systems that require ultra-fast responses.
"Today, you must make a choice between high data rate fibre optics and minimum-latency microwave links. You can't have them both," said Fujishima. "But with terahertz wireless, we could have light-speed minimum-latency links supporting fibre-optic data rates."
Panasonic points out that the range of frequencies used are currently unallocated, falling within the 275-450GHz whose usage is to be discussed at the World Radiocommunication Conference (WRC) 2019 under the International Telecommunication Union Radiocommunication Section (ITU-R).
Details of the technology were presented at the International Solid-State Circuits Conference (ISSCC) in San Francisco last week as 'A 105Gb/s 300GHz CMOS Transmitter'.
In 2016, the team presented 'A 300GHz 40nm CMOS transmitter with 32-QAM 17.5Gb/s/ch capability over 6 channels', at ISSCC.