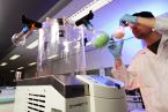 This work is collaboration between CEA-Liten, Eindhoven University of Technology, STMicroelectronics and University of Catania which results were presented last month at the ISSCC in San Francisco.
Organic transistors manufactured at CEA-Liten (Laboratory of Innovation for New Energy Technology and Nanomaterials) in France are processed using low temperature printing techniques on plastic sheet which has the potential to be used in large areas and so reducing fabrication costs.
This represents one of the more complex electronics circuits to be fabricated in plastic electronics using printing techniques.
"Organic electronics is still in its infancy, thus only simple digital logic and analogue functions have been demonstrated yet using printing techniques," said CEA-Liten.
The ADC circuits printed by CEA-Liten include more than 100 n- and p-type transistors and a resistive layer on a transparent plastic sheet.
The ADC circuit offers a resolution of 4 bits and has a speed of 2Hz.
The ADC was designed by Eindhoven University of Technology, ST Microelectronics and University of Catania, in the framework of the EU project COSMIC (Complementary Organic Semiconductors and Metal Integrated Circuits).
The carrier mobility of the printed transistors is higher than the one observed in amorphous silicon, which is widely used in the display industry (CEA technology p-type µp = 1.8 cm²/V.s and n-type µn = 0.5 cm²/V.s).
The significance of a printed ADC is that it could be integrated with printed sensors and then embedded in package for monitoring the quality of food products inside the package.
This ADC circuit is made with large use of the screen-printing technique which could make possible the processing of a printed sensing system including the sensor and the signal conversion on a plastic foil.