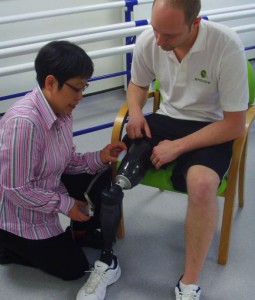 It has a multidisciplinary team developing thin sensors that can be integrated in the sock-like 'liner' worn over the stump of an amputated limb inside the artificial limb socket.
Excessive pressures between stump and socket can cause tissue damage, leading to painful sores, said the University.
"Socket fit is the single biggest factor determining whether prosthesis will be successful for a patient," said Southampton researcher Dr Liudi Jiang, who invented the sensor.
Sadly, because of the patent situation, Jiang is not revealing any details of the sensor, except to say it measures compression in one direction and shear forces in two orthogonal directions. "Shear is quite predominant," she told Electronics Weekly.
Data could be sent wirelessly to monitor forces, or even eventually be used to control an adaptive socket.
The Southampton team will work with UK company Blatchford to develop the sensor into a range of thin prosthetic liners to fit sockets of any shape and size.
"We anticipate that from the development of this technology we will reach a new level of understanding and uncover the as yet unclear dynamic qualities of limb loading and socket fit. This step is crucial for the development of the next generation of socket technology products and future artificial limb controls," said Dr David Moser, head of research at Blatchford.
The work is being funded through the Biomedical Catalyst – a programme that supports ideas from conception through to early commercial development, managed by the Medical Research Council and Technology Strategy Board.