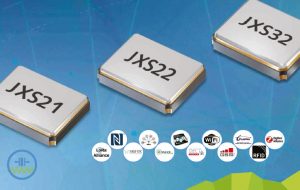 They support frequencies of 24.0MHz, 26.0MHz, 32.0MHz, 37.40MHz, 38.40MHz or 40.0MHz, which are often used by radio frequency application specific integrated circuits (RF-Asics).
Southern Manufacturing: Say hello to Electronics Weekly at M133 »
They meet wireless standards like Bluetooth Low Energy (Bluetooth Smart), ZigBee, industrial, scientific and medical (ISM), LoRa, low power wide area network (LPWAN) or other standards used in wireless applications.
The crystals are available in standard packages identified as: 2016 (2.0×1.6×0.45mm); 2520 (2.5×2.0x0.55mm); and 3225 (3.2×2.5×0.65mm). They operate at 14 special frequencies which are required to generate a pure and stable reference clock for many RF-transceivers and RF-Asics.
The company adds that the high frequency stability as well as low electron spin resonance (ESR) enable the crystals to meet IoT, industrial IoT, and other wireless application requirements, including wearable devices.