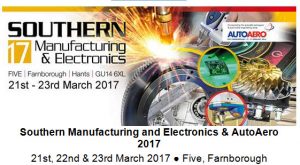 And all attendees are very welcome to visit Electronics Weekly on stand M133.
As added incentive to say come and say hello, we are running a prize draw for anyone who subscribes to the magazine at the show to win a Kindle e-book reader.
Read our Show Preview: Southern Manufacturing & Electronics 2017 »
March Manufacturing
Regular attendees will have noticed the change in date, to slightly later in the year. Why the change, we asked? It seems the two main drivers are to lessen the likelihood of suffering severe wintry weather, and avoiding half-term holidays and Valentine's Day.
The organisers write:
The decision to reschedule to early spring comes in response to the UK's increasingly unpredictable winter weather patterns which have over the last few years proved testing during early February. The new timings for 2017 of 21st, 22nd and 23rd of March move the event to a period of generally more benign weather conditions, making it less vulnerable to the extreme cold, floods or wind that have become a feature of the British winter.
There is also the issue of a February date itself. The organisers add:
In addition, the rescheduling of the event to March moves the show away from other sensitive timings in early February, including the half-term holidays and the unpopularity for many of being away from home on February the 14th.

"Our exhibitors have greeted the news of the change of dates with universal approval, prompting record re-bookings for 2017," said how director, Phil Valentine. "This year's show attracted well over 8,600 visitors, which is itself a new record and vindicates our choice of the site over other Southern venues. With greater accessibility and local infrastructure near completion, we anticipate a further significant increase in visitor numbers for 2017".
See full show information at www.industrysouth.co.uk