Phones are checked 100 billion times a day by the six billion people (80% of the world population of 7.4 billion people) who own a mobile phone.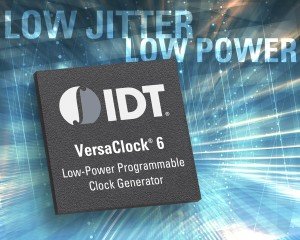 Facebook gets nine billion visits a day; WhatApp gets 50 billion a day; Twitter is used 500 million times a day; Snapchat gets 1.2 billion users a day; 3.6 billion photos were uploaded to the Internet last year; 807 million people saw 'Charlie bit my finger'; 91% of mobile internet use is for social media.
More video is uploaded to YouTube every month than the three major US TV networks have produced in the past 60 years.
"This means the high performance memory market will continue to expand," says IDT vice-president Graham Robertson.
It is also good for IDT's timing business because higher bit rates require lower jitter clocks which drive down bit error rates and so reduce packet loss. And high bit rates are moving towards the edge of the network, the company says.
Higher integration reduces power and IDT says its VersaClock 6 delivers the entire clock tree with a flexible frequency range to maximise applications.
Finally the fact that only one third of the world's population owns a smartphone means that there is substantial potential in wireless charging which the smartphone manufacturers are beginning to adopt.
IDT has grown revenues for seven successive quarters and its FY 2015 gross margin is 61%.