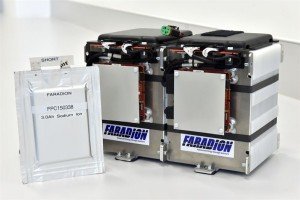 Sodium is proposed as a cheaper alternative to relatively-rare lithium in rechargeable cells. "it is expected that sodium-ion batteries will also cost around 30% less to produce compared to conventional lithium ion technologies," said Faradion, which has sodium ion intellectual property.
One of the main reasons battery manufacturers have not switched from lithium to sodium is poor cycle life – far less than the 600 cycled expected of a phone battery, for example, and sometimes only a few cycles.
Faradion claims to have got to grips with lifetime: "Preliminary cell testing has shown excellent cycle life in many of Faradion's novel materials," it said.
AGM Batteries makes high-end lithium-ion batteries for industries including military, oil and gas. Its 4,000m2 factory in Thurso currently produces rechargeable and non-rechargeable cylindrical and pouch cells using a range of chemistries.
"Since 2013, AGM has developed significant experience in the later phases of developing and commercialising battery technologies, and the partnership with Faradion offers the opportunity for us to take a sodium-ion technology to key markets," said AGM CEO Kevin Brundish. "The partnership blends the experience of the technology developer along with a flexible manufacturer; a fairly unique combination, certainly within the UK and Europe."
According to Faradion and AGM, the intended markets for Na-ion are: military, oil, gas and automotive.