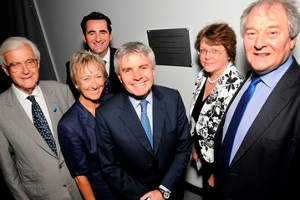 According to the university, the academy is the first UTC in the UK to deliver apprenticeships offering students the opportunity to work with leading engineering firms and businesses, including Jaguar Land Rover, Rolls Royce, National Grid, Eon and Goodrich.
Based at Birmingham Science Park, in Aston, it was developed in partnership with Birmingham City Council. It can accommodates 600 students.
"It has been an exciting year for Aston University Engineering Academy. The professionalism and commitment of the AUEA team has ensured we are able to celebrate on the occasion of our official opening," said Lee Kilgour, Principal of the Aston University Engineering Academy. "Three years on from my appointment and I am immensely proud of our achievements which mean that in September we will have over 350 students aged from 14-19 attending AUEA. We have very quickly established a reputation within the city of Birmingham aligned to our motto – engineering and science excellence for 14-19 year olds in Birmingham."

"We are all delighted by the continued success of our Engineering Academy, the staff and students are outstanding and we have been oversubscribed by applicants. Offering science and maths A levels alongside apprenticeships is a first for a school in the UK and our students appreciate the business environment and high tech equipment that they can use." said Professor Alison Halstead Pro Vice- Chancellor Aston University

"Having Lord Paul Drayson to formally open the Aston University Engineering Academy today just after he has broken the world land speed record for a lightweight electric car at 204.2 miles per hour was inspirational to everyone," she added.
(Image: From left to right: Lord Kenneth Baker, Professor Alison Halstead, Lee Kilgour, Lord Paul Drayson, Professor Dame Julia King and Councillor Mike Whitby)