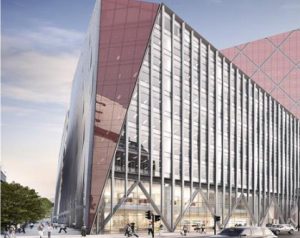 The London Cyber Innovation Centre – a £13.5 million initiative to bring industry, researchers and investors together to boost the UK's position as a place to develop cyber security technology – is to open in the Olympic Park in June.
The centre will be run by Plexal from its Here East headquarters, and is being funded by the Department for Digital, Culture, Media and Sport as part of the Government's five-year, £1.9 billion cyber programme.
The will help businesses identify cyber security problems and support the growth and development of start-ups to solve these challenges.
Startups chosen for the scheme will work with large firms as they identify cyber security challenges critical to their businesses. This will help make sure the UK's leading entrepreneurs are creating solutions large firms need as well as securing commercial contracts and crucial investment.
The centre will offer a tailored programme of support to at least 72 companies over three years and is open to firms from across the UK. Other startups not on the programme will also be able to access the centre's support and facilities.
Those chosen for the scheme will benefit from dedicated technical and engineering support from some of the world's leading authorities on cyber security, state-of-the-art technology facilities and mentoring and professional business advice. They will also have access to an international network of cyber clusters to bring trade and investment opportunities on a global scale.
Plexal specialises in helping high-tech startups in AR, VR and IoT. It recently launched Plexiglass, a development programme for women-led startups, with Barclays and the London Legacy Development Corporation.
Plexal opened in June 2017 and joined a growing tech community in the Olympic Park, including University College London's Robotics Lab, Ford's Smart Mobility Innovation Office, the Advanced Propulsion Centre and Loughborough University. Transport for London and HMRC have also announced they will open new headquarters on the Stratford site.
The firm will partner with the Centre for Secure Information Technologies at Queen's University Belfast, the UK's Innovation and Knowledge Centre (IKC) for secure information technologies, and Deloitte.
 It is one of two new centres being developed by government to grow the UK's cyber security sector. An innovation centre in Cheltenham opened in early 2017 with the launch of the GCHQ Cyber Accelerator programme. Seven startups have graduated with a further nine companies currently taking part in an extended nine-month programme.
This initiative is part of the Government's £1.9 billion 2016-2021 National Cyber Security Programme, managed by the Cabinet Office, which coordinates the work undertaken to implement the UK's National Cyber Security Strategy.
London is also home to the headquarters of the National Cyber Security Centre.
Firms in the programme will have access to international cyber security networks via the Global Ecosystem of Ecosystems Partnership in Innovation and Cybersecurity (Global EPIC).
---
---