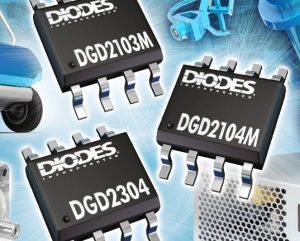 At the PCIM exhibition taking place in Nuremberg this week, Diodes has introduced a range of gate drivers that feature a floating high-side driver to simplify the switching of two N-channel mosfets or two IGBTs in a half-bridge configuration.
Designed for motor control and power supply applications that require AC and DC motor control boards rated above 100W, and LLC resonant converter power supply topologies, the half-bridge configuration of the devices includes high-side and low-side drivers with high pulse-current outputs to switch of low RDS(on) mosfets or IGBTs.
See also: PCIM (Power Conversion Intelligent Motion) news roundup
Shoot-through prevention logic includes matched delay times and a fixed internal deadtime to protect the HS and LS power switches by ensuring they are not on simultaneously.
The floating high-side driver provides high-voltage isolation allowing operation on power rails up to 600V.
Compatible with logic-level inputs from 2.5V, these gate drivers allow direct PWM control from 3.3V MCUs, while the gate drive output operates up to the VCC supply (10V to 20V) to minimise conduction losses in the switch.
The DGD2103M and DGD2104M have optimised Schmitt trigger inputs to avoid false triggering in noisy motor applications; while the DGD2304 provides a shorter internal deadtime, typically 100ns, making it a better choice for high-frequency applications.
All three gate drivers are offered in an industry standard SO-8 package.